Up Our Alley Strikes Again with Record-Breaking $191,318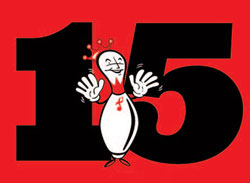 They cleverly called themselves "Spare Me Dahling," "Too Hot to Handel" and "Guys & Balls." They wore T-shirts emblazoned with the punny "Strike a pose" or a rainbow-colored image of Franz Schubert (donned by the "Rainbow Schuberts").
And while the two evenings of Up Our Alley may look like just fun and games, the more than 300 bowlers participating raised a serious amount of money for Classical Action: a record-setting $191,318. Their two months of intensive fundraising brought this year's total to $41,000 more than raised in 2012.
The 15th installment of Up Our Alley, Classical Action's annual bowling benefit bonanza, again brought together a diverse gathering of bowlers as the performing arts community joined forces with teams from finance, marketing and television firms to raise funds for those battling HIV/AIDS and other critical illnesses.
On November 18 and 19, 2013, New York City's Bowlmor Lanes Union Square buzzed with energy and excitement as the fundraising bowlers took over two floors of alleys to celebrate their incredible accomplishments.
While gutter balls were a bit more abundant than strikes, an open bar, plentiful food, jamming music and the camaraderie of colleagues kept spirits high. The top team and individual fundraisers were also honored each night during a brief break in the action.
Among the November 18 participants, the most money raised was $10,980 by The Bar Bra's. Runner-up was Orchestra of St. Luke's with $8,894. The top individual fundraiser was Charles Hamlen from Orchestra of St. Luke's with $4,650. Carl Mulert from Local USA 829 – IATSE came in as Monday's runner-up with $2,985.
Among the November 19 participants, the most money raised by a team was $22,611 by Credit Suisse. Runner-up was Morgan Stanley with $17,640. The top individual fundraiser was Doug Nieters from Credit Suisse with $7,175. Roger Hyde from DIRECTV was Tuesday's runner-up, raising $5,401.
Back to Top