Classical Action:
Performing Arts Against AIDS
A Program of Broadway Cares/Equity Fights AIDS

Providing Lifelines of Support for Those Onstage and Offstage
During a recent conversation in New York City's Chelsea Market, Javier Muñoz and Krysta Rodriguez finished each other's sentences. As accomplished actors who performed together in Broadway's In the Heights, their closeness is not surprising.
But the sentences they finish have nothing to do with lines from a show or backstage stories. It's when they talk about the side effects of prescription medicine or the isolation of being sick or simply the challenge of asking others for help.
In their separate journeys of living with HIV and cancer, Muñoz and Rodriguez find common ground in the good days and bad ones, the shared experiences in doctors' offices and discussions with social workers. They both know firsthand how The Actors Fund shines as a beacon of light and hope for so many.
For more than 25 years, Broadway Cares/Equity Fights AIDS has been strengthening The Actors Fund's vital safety net of social services as The Fund's largest single supporter. Since 1988, Broadway Cares has awarded $73 million to The Actors Fund, including a record $5.6 million in 2016.
Muñoz, who stars as Alexander Hamilton in Broadway's history-making hit Hamilton, first encountered the services of The Actors Fund in 2000 after being diagnosed with HIV.
"It was July 2 and I got my result that I tested positive," Muñoz shared with Rodriguez. "I spent about two days in complete and utter depression, not sure what I even had available as far as options. I had no money to pay for medications, and I didn't know how to even start."
Muñoz ultimately ended up at The Actors Fund. "That's how I got my doctor, that's how I got my insurance taken care of, that's how I got my AIDS Drug Assistance Program put in place," he said. "I remember hitting a point … I mean, taking care of yourself is so expensive. What you need medically and emotionally is just ridiculous and I needed help."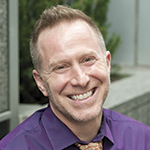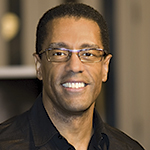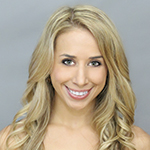 In the fall of 2014, Rodriguez, who's appeared in seven Broadway shows including the recent revival of Spring Awakening, was diagnosed with breast cancer on the eve of her 30th birthday. Even for someone with a successful career, the reality that comes after diagnosis can be daunting.
"I'm chugging along paying for everything and all of the stuff was starting to add up," Rodriguez said. "The surgeries were going to be tens of thousands of dollars. My biggest problem was that I didn't have any money."
Rodriguez knew about The Actors Fund and its HIV/AIDS Initiative, but not the extent of other services offered.
"I was very aware of The Actors Fund because I had been collecting for Broadway Cares for years, but I didn't have AIDS or HIV, so I thought, 'Well, that's that,'" she said. Rodriguez's manager, however, knew of The Actors Fund's support of women's health and connected her to the organization. After sharing her challenges with The Actors Fund, Rodriguez was amazed by the support she received.
"My social worker, Allison, came in and said, 'We can have a check for you,'" Rodriguez remembered. "I started shaking, I started crying. I said, 'Where does this money come from?' And she was like, 'You helped raise it. It came from you.'"
Rodriguez's assistance came through the Phyllis Newman Women's Health Initiative. In 1996, thanks in part to a $10,000 grant from Broadway Cares, The Actors Fund established the initiative to provide a safety net to women in the industry tailored to their unique needs and illnesses. These women-centric concerns include HIV/AIDS, breast, cervical and ovarian cancers, domestic violence, chemical dependency and mental health issues. Since that first grant, Broadway Cares has awarded $9.4 million to the women's health initiative.
For both Rodriguez and Muñoz, The Actors Fund provided access to financial assistance, countless resources and a safe, understanding community.
Muñoz appreciated how The Actors Fund recognized the unique struggles of people in the entertainment industry and provided customized financial and emotional support based on those needs.
"As an artist who doesn't always work all the time, doesn't always have insurance all the time, all the things we deal with in and out of contracts," Muñoz explains, "The Actors Fund knows exactly what our needs are, and there's integrity in whatever the need is."
For Muñoz, his connection to treatment and support was provided by the HIV/AIDS Initiative. Established more than 25 years ago, the initiative offers support to performing arts professionals through financial assistance, counseling services, weekly support groups, access to vital medication and long-term holistic planning. In 2016, Broadway Cares awarded $2 million to the initiative.
"I felt so much comfort, so much safety," Muñoz said. "For the first time I got help within my community."
Today, Rodriguez's cancer is in remission and Muñoz has learned how to manage his diagnosis. Neither depends on the kindness of The Actors Fund at the moment, but because the safety net provided by Broadway Cares played such a key role in their journeys to recovery, they are eager to give back.
During the run of Spring Awakening, Rodriguez shared her personal story as part of Broadway Cares' fundraising appeal: "The money doesn't go to a vault somewhere, it's getting put back into the community. It's me, it's somebody next to me, it's four people behind me, it's somebody in the next show you're going to see."
Muñoz enjoys holding Broadway Cares' iconic red donation bucket after shows because it gives him an opportunity to connect with fans in an inspiring way.
"It feels wonderful to say thank you to the person, to connect with the audience member," Muñoz said. "Not only have they helped our industry, but some of the money they're donating may be a resource for them later in life from some organization that they don't even realize Broadway Cares/Equity Fights AIDS helps support. We're asking for their help because here we are, living proof that it works."
✛ HIV/AIDS Initiative
✛ Phyllis Newman Women's Health Initiative
✛ Artists Health Insurance Resource Center
✛ Al Hirschfeld Free Health Clinic
✛ Actors Fund Work Program
✛ The Dancers' Resource
✛ Stage Managers' Project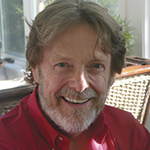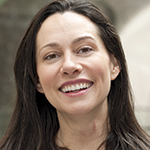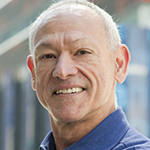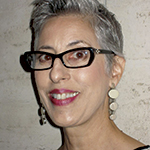 ---
Support for The Actors' Fund by Fiscal Year
2015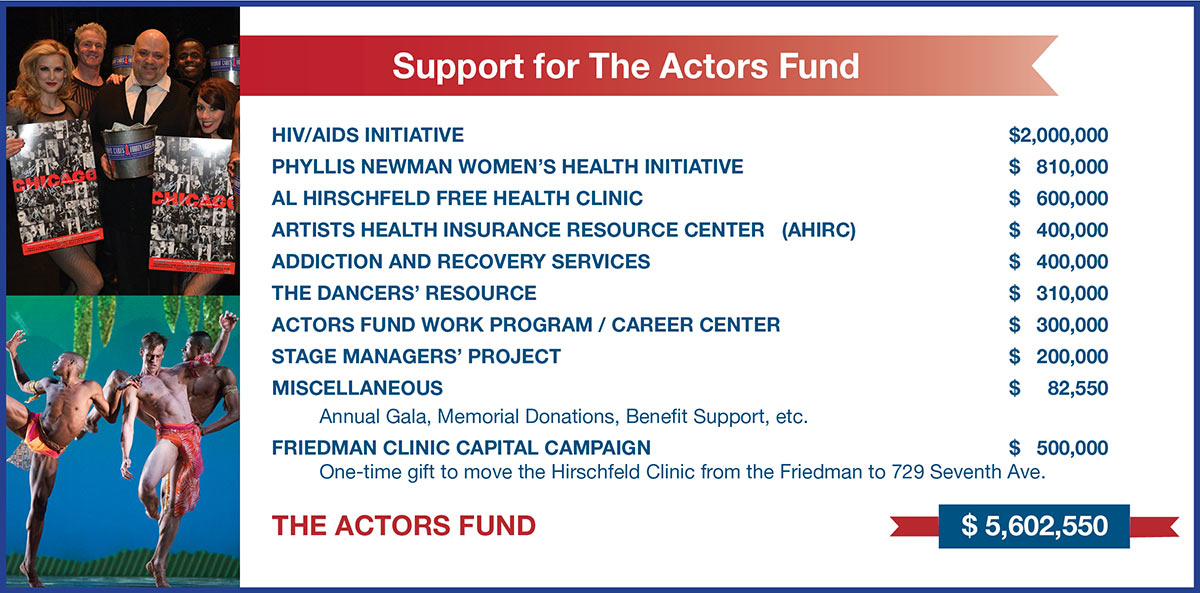 2014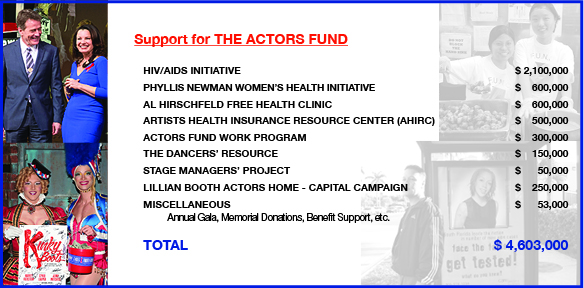 2013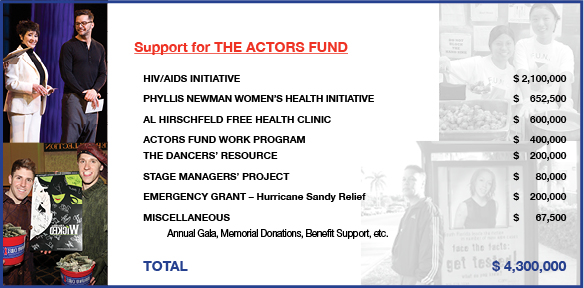 2012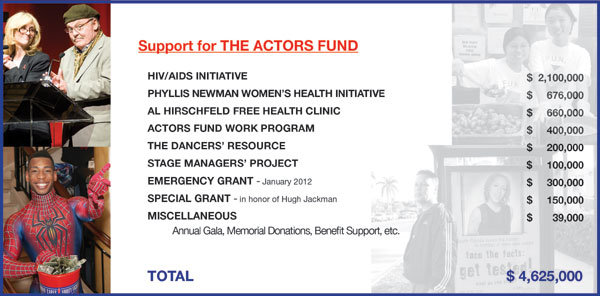 2010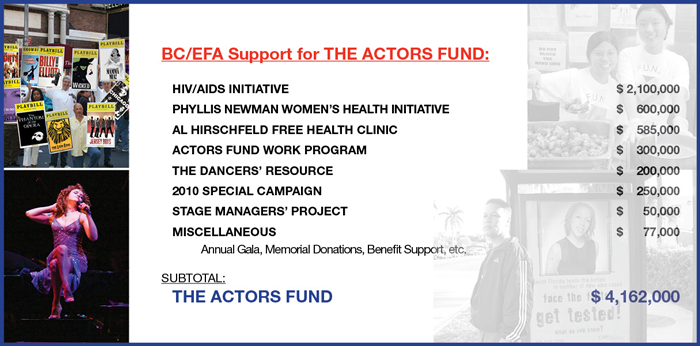 2009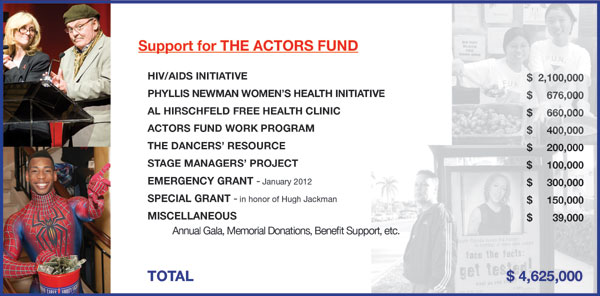 2008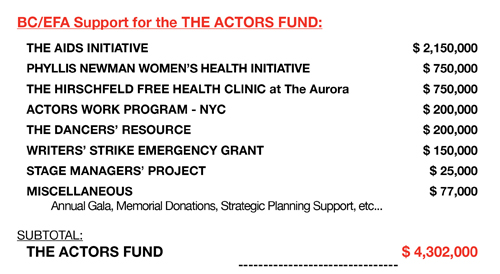 2007
BC/EFA Support for THE ACTORS FUND in 2007:

 THE AIDS INITIATIVE GRANT
$2,105,000
 PHYLLIS NEWMAN WOMEN'S HELATH INITITATIVE GRANT
$570,000
 THE HIRSCHFELD FREE HEALTH CLINIC at The Auraora
$675,000
 ACTORS' WORK PORGRAM – NYC
$200,000
 THE DANCER'S RESOURCE
$125,000
TOTAL SUPPORT:  $3,675,000