Mezzo-soprano Joyce DiDonato and pianist Jeremy Denk 2010-11 Michael Palm Series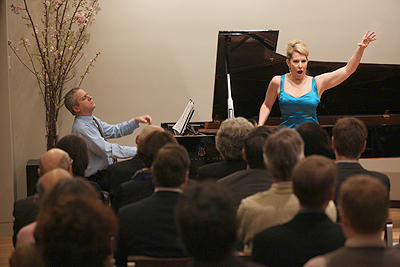 Following the third and final Michael Palm house concert of the 2010-11 season in New York, a distinguished singer and vocal teacher was heard to exclaim:
I was a fan of Joyce's before, but the opportunity to hear her close-up has just sent me over the edge. I was wishing that all my students could have been there to hear this gorgeous artist. And Jeremy! What a marvel at the piano!
Whether it was the reaction of a professional colleague, lovers of opera, piano enthusiasts, supporters of Classical Action or, in most cases, a lively combination of most of the above, the response of everyone in attendance May 4 at the spectacular home of hosts Kevin Roon & Simon Yates was one of overwhelming enthusiasm. And whether in a charming set of songs by Rossini of love lost, a beautiful set of gems by the Venezuelan-born Reynaldo Hahn, one of Mozart's great late sonatas for solo piano, individual works of Leoncavallo and Buzi-Peccia or the hauntingly poignant "O del mio amato ben" of Stefano Donaudy, sung in memory and honor of those we have lost to HIV/AIDS over the years, this was a program which captured people's hearts.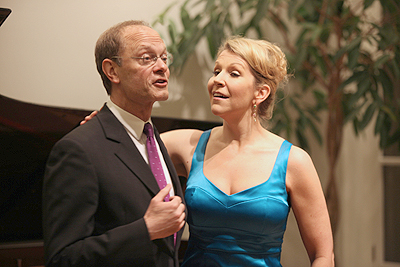 The audience was delightfully surprised that among them was Emmy and Tony Award-winning actor David Hyde Pierce, who quieted a rousing standing ovation to address Joyce, and the audience, to explain just how special the concert had been for him.  His spoken paean to the artists segued into the Cole Porter classic duet "You're The Top."  It was hard to tell who was having the most fun: David and Joyce, trying to out-compliment one another, Jeremy vamping at the piano or the audience thrilled by this special encore performance.  It's a toss-up, but one thing's for sure. The audience would certainly agree that Cole Porter said it best about all three artists:  "You're sublime! You're the top!"
All Photos by Steve J. Sherman
Back to Top