Leila Josefowicz, violin and John Novacek, piano 2011-12 Michael Palm Series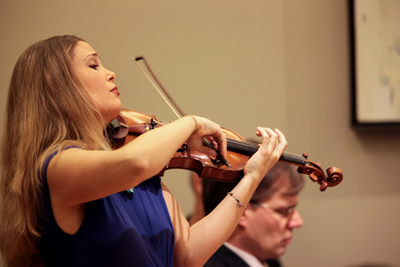 There was a lot to smile about Friday night, February 10, at the elegant Tribeca penthouse apartment – and Classical Action concert hall — of Kevin Roon and Simon Yates. Violinist Leila Josefowicz and pianist John Novacek offered a stunning and varied recital program, ranging from De Falla and Schumann to John Adams, in the opening concert of this year's Michael Palm Series.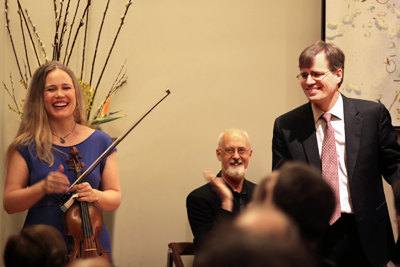 The fact that Leila and John, both compelling artists on their own, have performed together for nearly 20 years was obvious in every aspect of their musical collaboration, as they brought to vivid life the character of each work on the program. In a gracious acknowledgement of the thunderous applause and prolonged standing ovation from the 75 Classical Action supporters and audience members, they offered a luminous account of the iconic Charlie Chaplin song Smile. In the presence of such beauty, it was impossible not to.
All Photos by Steve J. Sherman
Back to Top