Hersch and Salvant Astound in Michael Palm Series Kick-off
Two generations of musical genius – pianist Fred Hersch and vocalist Cécile McLorin Salvant – joined forces September 27 to launch the 13th season of Classical Action's acclaimed Michael Palm Series house concerts.
Hersch is lauded as one of the world's premier solo jazz pianists, recently winning the 2016 Doris Duke Artist Award. He has shaped the course of jazz music in more than three decades of performing and educating. Hersch is also a longtime friend of and champion for Classical Action.
Salvant, a wunderkind jazz talent and legend in the making, was awarded the 2016 Grammy Award for Best Jazz Vocal Album.
The pair began the evening with soulful renditions of Kurt Weill and Ogden Nash's "Speak Low" and Cole Porter's classic "You're The Top," immediately immersing the audience in Salvant's arresting vocals and Hersch's complex melodies.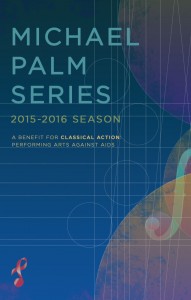 Hersch then performed two impressive original solo works. He dedicated "Pastorale," a stunning piece conjuring images of innocence and childhood, to 19th century composer Robert Schumann.
Salvant returned to the stage with a breathtaking a cappella rendition of Bessie Smith's "You Ought to be Ashamed." The next great voice of a generation, Salvant's rich vocals and captivating storytelling skills entranced the room.
The duo concluded the evening with a show-stopping version of Hersch and Norma Winstone's "A Wish (Valentine)." The song seemed particularly appropriate as the audience left swooning over this magical evening with two incomparable artists.
Hosts Simon Yates and Kevin Roon again graciously offered their magnificent Tribeca loft for the concert. The sole underwriter for the series is the Michael Palm Foundation, with additional sponsorship from United Airlines.
Photo by Steve J. Sherman
Back to Top