Garrick Ohlsson performs in the opening concert of the 2010-11 Michael Palm Series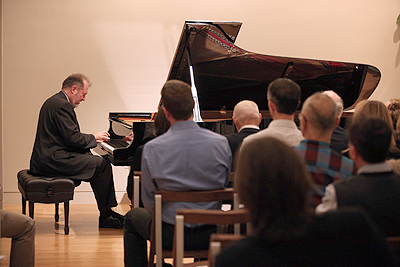 Classical Action's Michael Palm Series brings headliners from The Metropolitan Opera, Carnegie Hall and the world's most prestigious venues into elegant New York City homes to perform for small, exclusive audiences in the most intimate of settings.
Garrick Ohlsson, hailed by The New York Times as "The Chopin master" and the first American to win first prize at the 1970 Chopin Piano Competition, opened the seventh season of the Michael Palm Series on December 6, 2010 at the Tribeca home of two of Classical Action's most ardent supporters, Simon Yates and Kevin Roon.
Garrick's warmth, charismatic presence and profound musicality were displayed with brilliance as he treated the audience to an all-Chopin program. For Garrick, this was not only an opportunity to offer his time and talent to benefit Classical Action but it was also a preview of a recital he would perform for 1,000 fans two nights later at Alice Tully Hall, as part of his "The Chopin Project." It was a rare privilege for our most generous supporters to hear one of today's great exponents of Chopin's music in Classical Action's "private concert hall" in Tribeca.
Photo by Steve J. Sherman
Back to Top