Classical Action:
Performing Arts Against AIDS
A Program of Broadway Cares/Equity Fights AIDS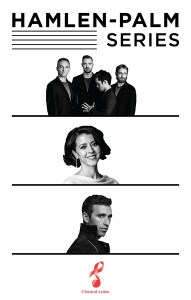 JACK Quartet on Thursday, February 20
Lisette Oropesa on Monday, March 2
Anthony Roth Costanzo on Tuesday, March 24
New York City
The 2020 Hamlen-Palm Series lineup has sold out some of the world's most revered classical music houses, and can now be experienced from mere feet away in one of New York City's most elegant apartments.
Join performers JACK Quartet, soprano Lisette Oropesa and countertenor Anthony Roth Costanzo in an unmissable concert series benefiting Classical Action, a program of Broadway Cares/Equity Fights AIDS.
The exclusive house concerts start at 7:30 pm; cocktails begin at 6:30 pm. The performances will take place in the intimate TriBeCa loft home of longtime Classical Action supporters Kevin Roon and Simon Yates.
✛ JACK Quartet
✛ Lisette Oropesa
✛ Anthony Roth Costanzo
✛ 2020 Hamlen-Palm Series Supporters
✛ Advisory Committee
The series honors two of Classical Action's most ardent supporters. Charles Hamlen was the founding director of Classical Action, a visionary in the world of classical music management as the co-founder of what would become IMG Artists, and artistic adviser to the Orchestra of St. Luke's. Hamlen passed away from leukemia on August 1, 2018.
Michael Palm was a financial expert and philanthropist who dedicated his life to the arts, gay rights and the fight against HIV/AIDS. He first met Hamlen backstage at Carnegie Hall following a recital by pianist Earl Wild, where Palm learned about Classical Action. Palm was inspired by the classical musicians coming together to make a difference and launched a series of benefit house concerts that ultimately bore his name. Palm died in 1998.
Since Classical Action's first house concert in 1993, more than 50 classical performers have shared their time and talents Among the notable artists who've appeared are Joshua Bell, Joyce DiDonato, Renée Fleming, Denyce Graves, Natasha Paremski, Yuja Wang and André Watts.
Back to Top